In an era when coaching is seen as a linchpin to the success of society, Smart Quest, the pioneer professional coaching skills training provider in Sri Lanka celebrates 15 years of enriching lives.
The milestone, is a stellar achievement to a local company with a global reach, having impacted numerous lives during its illustrious journey. Their success lies in the proverbial strength of the threefold chord consisting of a partnership of professional coaches; Andrea Jayatilleke, Jayantha Fernando and Anil Bandara, in addition to a highly motivational team of members and the changed lives of their clients who have allowed themselves to be partnered in their journey of people process and organisational transformation.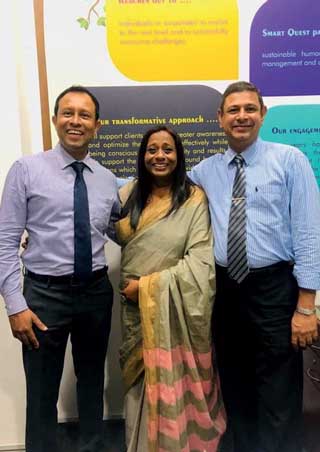 Smart Quest Directors (from left): Anil Bandara, Andrea Jayatilleka and Jayantha Fernando
Reflecting on the purpose of Smart Quest, Founder, Andrea Jayatilleka together with partners, Jayantha Fernando and Anil Bandara stated, "We are intentional in our quest to serve humanity by fully committing ourselves to 'Human Capacity Development', enabling individuals, groups, teams, organisations, institutions and societies to fully participate and engage with real challenges, perform at their greater capacity and embrace constant change with ongoing adaptability and agility in an unique manner.
"The evolution of our service offerings is a witness to the true transformation of the organisation. We have evolved from supporting talent acquisition and development to organisational and community transformation. Today our core tailor-made offerings are in the areas of organisational development consulting, leadership development, executive search, outsourced services and education services. Our interventions are based on positive psychology and transpersonal psychology that enables a positive mind shift and alignment of cognitive resource transformation and beyond."
Smart Quest is the brain child of its founder, who at a young age determined to impart the knowledge garnered through her mentors in the field of consulting and people development. With further inspiration and encouragement from her father, the idea manifested into an entity which focuses on providing the most sustainable group of people and process transformation solutions in the region.
The culmination of courage and passion to share their wisdom and impact people around was the next phase of the journey as three uniquely diverse individuals converged to enhance the vision to impact positive change in the world around them.
As an organisation, Smart Quest always stepped into the unchartered realms with gusto. The inception of Jayantha's vision to develop 100 coaches in Sri Lanka evolved as a shared vision to go beyond the boundaries and expand to reach hitherto unexplored territories such as Maldives and Bangladesh. Smart Quest is the hub for coach centred training and coaching services in Sri Lanka with over 170 coaches who have gained internationally recognised accreditations and carved a niche in their fields. "As the corner stone to coaching we continuously harness the learning of our coaching community to reach their highest potential, which augments our ultimate goal for the world," stated the trio.
"A truly global mindset is reflected in all we do. Our strategic collaborations have created a lever to the service offerings and the transformation we are able to provide to our clients," was the statement made with reference to the strategic collaborations Smart Quest has initiated throughout the years. For instance, Coach Masters Academy Sri Lanka the brainchild of the five-year partnership between Smart Quest and Coach Masters Academy – Singapore is paving the way forward to further strengthen the coach training offering to professionals in Sri Lanka and bordering countries.
Coach Masters Academy is an approved coach training centre of International Coach Federation (ICF). It is also a uniquely global firm operating in five continents, 26 countries and 35 cities across the globe and a globally distributed business and partnership. In addition, Onefluencer offers an inspirational range on internationally recognised Neuro Linguistic Program (NLP) training. The NLP Training is offered at different levels to meet your unique requirements through the Foundation, Practitioner, Master Practitioner to Trainer Training. Each course is unique and offers experiential learning at many levels.
As a craftsman aims for mastery, the consultants continuously evolve in their learning and growth and are committed to offering real time learning backed by up-to-date technology to enable a more fruitful learning experience. "Our faculty comprises of local and international coaches across five continents. Our philosophy of improving the quality of human lives and optimising work performance has proven to be of paramount importance for our success," stated the partners of Smart Quest.
Changing the trajectory of lives is incorporated into the mission of its coaches who tap into the inner potential of individuals and create insight to courageously move forward. Imperative to its modus operandi is the collaboration of the right people to enable creative thinking and facilitate transformation. Moreover, the rapport built with clients is the discerning factor that has enabled Smart Quest to positively impact the community in shaping the future.
Call it an epiphany or eureka moment but for those who have had the privilege of participating in the programs conducted by Smart Quest, the outcome is life-changing! The testimonials lay claim to the positive transformations that have taken place in the participants and not one person is left untouched. The guidance, counselling and coaching offered by the consultants of Smart Quest, the most desired organisational and social transformation specialist in the region, have had a ripple effect since its inception fifteen years ago.
Through its strong values built on Respect as each person is given a voice, Integrity in being consistent with words spoken, a Victorious attitude towards developing and celebrating people, elevating the communities touched and adding value to the world and Evolving through the diverse teams and connections made which results in the creation of innovative solutions, Smart Quest is on a journey to creating a better tomorrow.
"Over the years, our team at Smart Quest have proven that, consciousness is the key driver of performance, that helps to engage people towards the vision, increase productivity, promote collaboration, increase leadership effectiveness and experience holistic wellbeing."
"We believe in partnering with our clients and evolving together to create a better future. We strive to make a positive impact on the people, processes organisations and the community as a whole to create impactful changes that echo throughout the ages."